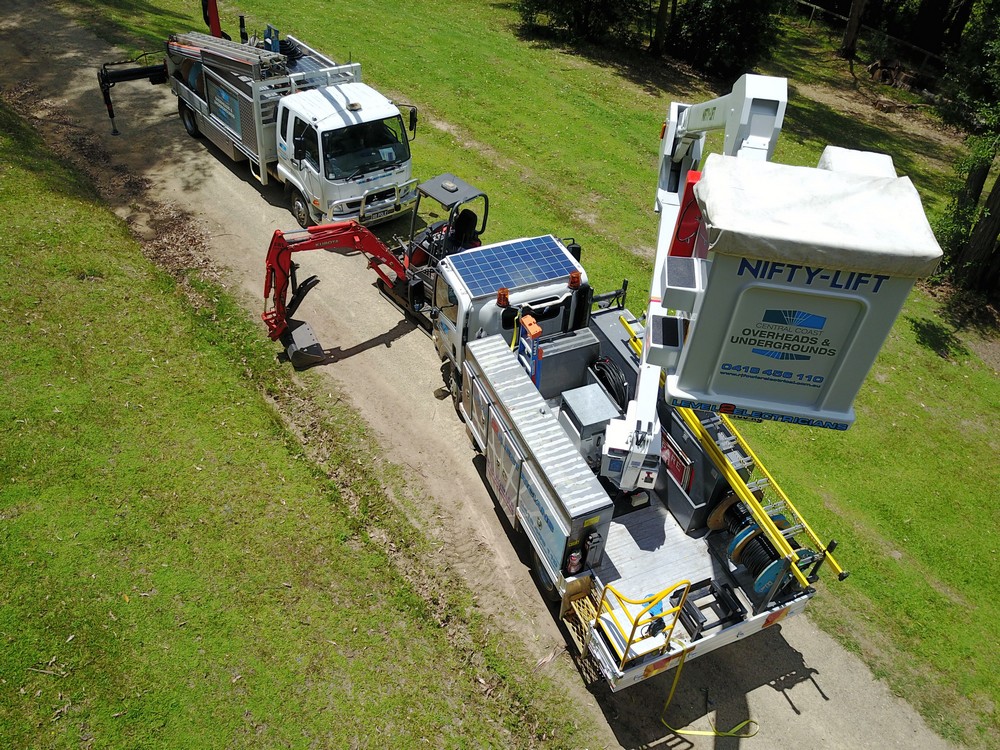 Using an Elevated work platform for Level 2 Electrical service work
Here at RJ Fowler Electrical/Central Coast Overheads & Undergrounds, we do not mind drawing attention to all our specialised equipment we use to help us get all our level 2 electrical jobs completed quickly and safely. Why? Because the safety of our qualified electricians and electrical apprentices come first and our equipment complies with all required standards and regulations.
Let us talk about our Elevated work platform also known as an EWP, cherry picker, boom lift or bucket truck.
What is an EWP?
An EWP is a mobile machine (device) that is intended to move persons, tools, and material to working positions and consists of at least a work platform with controls, an extending structure, and chassis.
RJ Fowler Electrical/Central Coast Overheads and Undergrounds have a truck mounted EWP that can reach 11m.
What do we use our EWP for?
Across the Central Coast our Accredited Service Providers use the EWP to complete level 2 electrical service work. This includes stringing overhead service mains, connecting point of attachments, connecting temporary builders' services, retention power lines, re stringing fallen power lines and replacing cross arms on your private pole.
The EWP allows us to safely complete all your level 2 electrical work quickly and safely across the entire Central Coast.
Our qualified electricians use this to install and repair flood lighting and carpark lighting.
What testing does our EWP require so we can operate safely?
Our licenced Level 2 Electricians use the EWP to connect power to the supply network. They are often working with live power so its important that the EWP is voltage tested every 6 months. This testing must be completed by an accredited and certified testing company.
Visual testing of the EWP cannot confirm the required level of protection so electrical testing at regular intervals is needed to verify if the insulation is providing adequate protection to our valued electricians. How is this tested? Its tested by sending electrical volts through the machine!
And happy to say that our EWP is tested and complies with AS/NZs1418.10.2011. That is a PASS for us!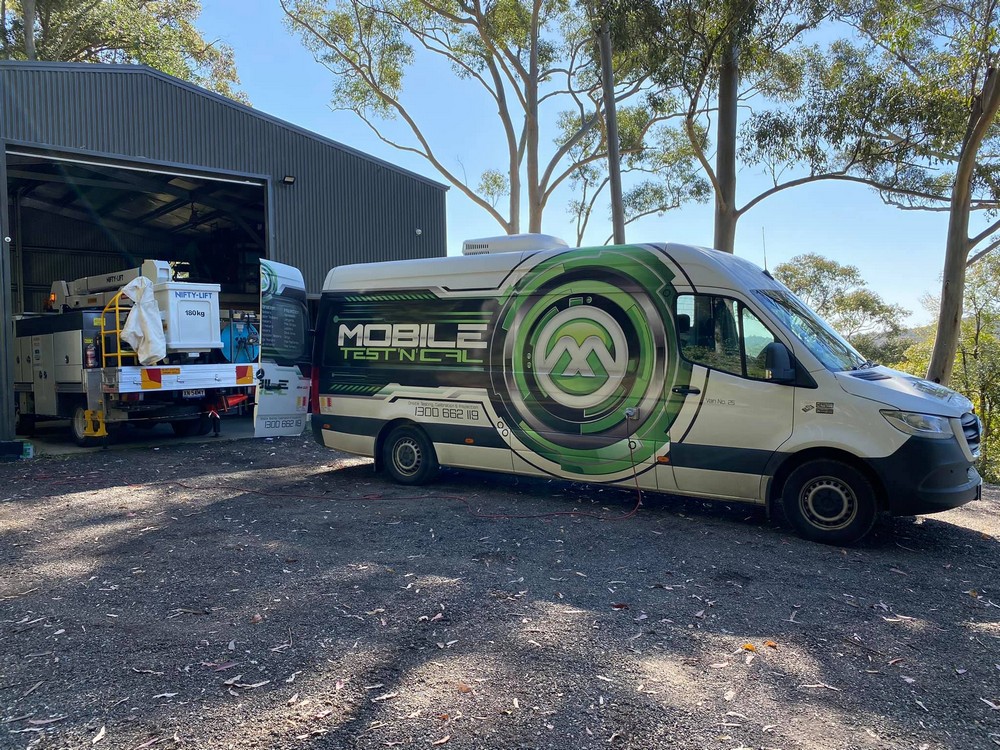 On top of the regular voltage testing, the EWP needs to be re-certified by an engineer at different intervals of the unit's life span. For our level 2 electricians to operate this and comply with standards, our EWP has just been through its 10year recertification. This is where a major inspection is carried out and and safety upgrades are made in accordance with
AS2550.10-2006 (cranes, hoists, and winches – safe work part 10: Mobile Elevating Work Platform)
AS2550.1 (Cranes, hoists, and winches – Safe use Part 1: General Requirements)
AS1418.10.2011 (Cranes, hoist, and winches – Mobile Elevating Work Platforms)
What does this mean?? It means that our Level 2 electricians can safely use the EWP as it has successfully completed all requirements for its 10-year major inspection and undergone vigorous and comprehensive servicing with all major components inspected, repaired, or replaced where appropriate. Thanks to the awesome team at Scott's Hydraulic Services located in Kempsey, we are happy to say that our Level 2 electricians will be safe completing all your level 2 service works as our EWP meets the requirements and is in a safe and serviceable condition.
Compliance certificates and documentation
No matter what level 2 electrical work we are undertaking or what jobsite we are on, RJ Fowler Electrical/Central Coast Overhead & Undergrounds will always have documentation of our equipment and our licenced electricians can produce this to you at any time. This is a requirement when operating the EWP. So not only do we complete Hazard assessments before starting any work, but we also have equipment maintenance checks and all the required compliance certificates and documentation for the EWP.
It is important that you always ensure that any trades person you use is licenced, insured and all equipment complies and is safe. Ask the question!
We ensure our licenced electricians are safe, we ensure we keep you and your family safe; we have everything covered!